Coal price pushing industry to brink

Print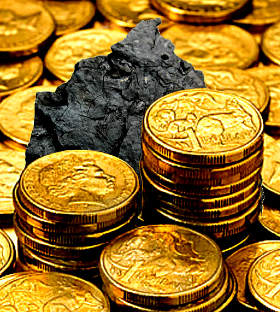 The global spot price for thermal coal has fallen 25 per cent per cent in the past month.
The fall has is expected to severely impact Australian and Hunter Valley thermal coal producers.
Experts say 60 per cent of global coal production is now unprofitable, with 30 per cent of Australian producers running at a loss.
New South Wales Minerals Council CEO Stephen Galilee claims good prices will return if industrials nations resume normal activity after COVID-19.
"We're a cyclical industry, we've seen low prices before … and the issue now is how long these prices will be sustained," he said.
"We export coal to 19 different countries through the Port of Newcastle and Port Kembla and Korea has 24 operating coal stations, with four under construction that may still be completed."
Mr Buckley said the move to renewable energy sources is having an effect.
"A decade ago coal fire power was a low-cost source of supply, while wind and solar were expensive, but today the reverse is true," he told reporters.
A major tender for energy put out recently by the Indian government offers a record low price of just $53/megawatt hour, which is 30 to 40 per cent cheaper than a new coal fired power plant could deliver.
South Korea, the third largest destination for Australian coal, has announced a new electricity plan for the next 15 years that includes a reduced reliance on nuclear and coal and will increase renewables from 15 to 40 per cent.
Coal imports in India are down 29 per cent year on year and the nation's coal minister wants imports to cease by 2024.
Additionally, the largest energy provider in the Philippines says it will exit coal by 2030 and is divesting 100 per cent of its coal assets.
The share price of American giant Peabody is down 80 per cent in the last 12 months.
Mr Buckley says there have been 32 announcements from global investment companies this year alone, saying they are divesting their coal assets. This includes Westpac, Allianz and major banks in Japan and the United States.
"They're literally running for the door, they've thrown the thermal coal industry under the bus," he said.