Donation sources obscured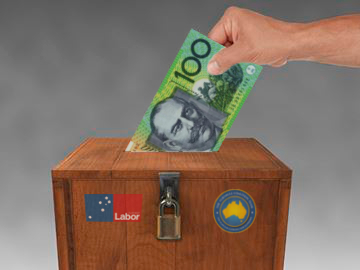 Visy magnate Anthony Pratt has topped the latest political donations list.
Visy's Anthony Pratt was the biggest individual political donor in the 2021 financial year, pouring almost $1.3 million into the Liberal Party and $10,000 to Labor's NSW branch - the donations roughly match Mr Pratt's contributions from the year before.
The Australian Electoral Commission has released the latest donations update this week, months after the most recent of them were made.
The stats show former fund manager Simon Fenwick was Australia's second-biggest donor, giving $1 million through two separate investment bodies to Advance Australia, a centre right lobbying group.
Private equity boss Ben Gray donated $78,200 ($45,200 to the Liberal Party and $33,000 to the ALP), professional gambler Duncan Turpie gave $110,000 to the Greens, while Harry Triguboff's Meriton Apartments donated $285,000 to the Liberal Party.
Western Australian William Nitschke gave $300,000 to former senator Rod Culleton's Great Australian Party, while Melbourne fund manager Stephen Sedgman donated $123,050 to the Animal Justice Party.
The far-right Australian Citizens Party is surprisingly cashed-up, having received $2.3 million in the year ended June 30, placing it behind only the Coalition, Labor and Greens parties. This is despite the party having no representatives in any parliament.
The donations data comes from a time period before Clive Palmer poured more money into his United Australia Party.
Lobby groups making big donations include the National Automotive Leasing and Salary Packaging Association ($303,700), the Pharmacy Guild of Australia ($295,149), the Australian Hotels Association's NSW branch ($259,946), PricewaterhouseCoopers ($246,008) and ANZ Bank ($244,100).
A recent review of over two decades' worth of donations found almost a third of the funds come from entities that can hide the true source of the funds.
The study by the Centre for Public Integrity found that the property industry led the list of business sectors donating to both parties.
However, it concluded that too many other donations are being hidden.
Both major parties rely on "associated entities" such as investment companies and foundations, which do not always reveal the source of their cash.
Former NSW Supreme Court judge Anthony Whealy, QC, chair of the Centre for Public Integrity, says the "disclosures" are wrongly named.
"The Commonwealth has the weakest donation laws in the country. Today we can see some of the donations that were made last financial year, but nothing under $14,500 and nothing from the last six months," he told reporters.
"The federal disclosure scheme is mis-named – it is a non-disclosure scheme with more than a third of political funding shrouded in secrecy. With an election around the corner, the public deserves to know who is funding our political parties,"
"What we can see is that a handful of donors dominate the funding of political parties. Big money has big impact, with the top 10 donors funding almost a quarter of all donations."