Dust spike shows monitoring gap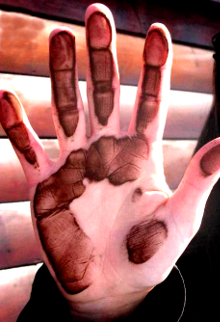 There are calls for chemical analysis of airborne pollution in the Queensland mining town of Moranbah.
The Department of Environment and Science (DES) has declared wood smoke is one of the most likely causes of a rise in airborne particles — known as PM10.
PM10 can cause respiratory problems and increase the risk of heart disease, and so state environmental protection policies say PM10 levels should not exceed the recommended 24-hour average of 50 micrograms per cubic metre on more than five days per year.
The annual average reading of PM10 in Moranbah in 2018 was 20 per cent higher than the recommended level.
"A combination of emission sources, including bushfires, dust storm events, and planned hazard reduction burns," could be to blame, according to DES.
"These peaks were observed at night under low wind speed conditions, which were not sufficient to produce windblown dust, hence the cause is believed to have been smoke," a spokesperson said.
"Additionally, as the peaks occurred overnight during cold conditions, it is most likely that solid fuel heaters were responsible."
Local real estate agents have told reporters that only around 1 per cent of homes are heated by fireplaces.
LNP Member for Burdekin and mines spokesperson Dale Last agreed they are rare.
"I'm yet to see [a fireplace] in Moranbah — I would be stunned and amazed if that was the case and that was contributing to excessive levels at those monitoring stations," he said.
DES air quality monitoring unit spokesperson Done Neale said DES does not have the resources to physically investigate emission sources.
"We don't have people on the ground ... that is something that potentially going forward we could look into," Mr Neale said.
"[The wood-burning explanation is] there as a suggestion but it's not a definitive statement.
"To the best of our ability, we couldn't find any other significant sources of smoke like a bushfire ... we can't discount the fact that there was a local fire that we didn't have information about."
Stephen Smyth from the CFMEU told the ABC in August that open-cut mines in Moranbah have big dust problems.
"It's terrifying and obviously it's worrying that people are prepared to work in that sort of dust," he said.
Queensland environment minister Leeanne Enoch said DES is working to address community concerns.
"I am advised the department and the Isaac Regional Council have met and have detailed actions that are being undertaken, including providing in-depth advice on air quality activities in the area and the potential for installation of additional monitoring equipment," she said.
"I understand they discussed opportunities for improved public access to air monitoring data and ways to provide more specific advice to the public during periods of poor air quality."