Finnish facility piques local interest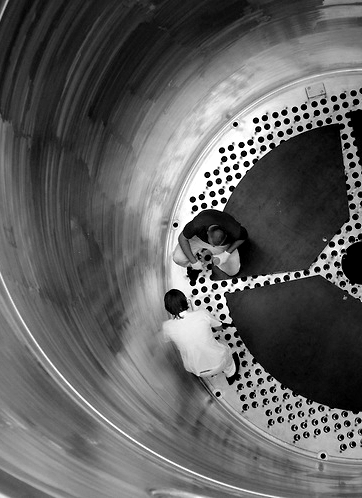 South Australian authorities are interested in a giant underground facility being dug in Finland.
Nuclear waste management company Posiva has a plan to store the harmful radioactive waste from Finland's reactors in a deep underground repository.
Over 400 metres below the Olkiluoto Nuclear Power Plant, workers are drilling and detonating into solid Finnish bedrock to dig out a huge system of tunnels.
The nuclear plant plans to store its waste underground, encased in clay, to ensure nothing gets in or out.
They say the first fuel rods will be stored around 2020.
"Deep geological disposal is the safest and most secured way to get rid of harmful spent fuel," says Posiva spokesperson Errki Palonen.
"Right now, much of the world's spent [nuclear] fuel is in pools at power plants."
"We are going to put the harmful radioactive waste from the reactors deep underground in a final repository... it will keep it safely away … for at least 100,000 years … and as long as a million."
Finnish nuclear power companies are legally bound to finding safe ways to dispose of their waste long-term.
The dump being dug under Olkiluoto Island will be full in about a century's time.
South Australia has been responding to an inquiry that found it could make about $100 billion over 120 years by building a high-level dump for waste from around the world.
Premier Jay Weatherill is still toying with the idea, but is in Finland on a fact-finding mission this week.
He told reporters he is seeking to "gain a better understanding from the Finnish experience in regards to safety, regulation and community consent".
Mr Weatherill has boldly begun trying to sell the idea of turning Australia into a nuclear waste dump, a hard sell by any measure.
"This has been an important discussion," Federal Resources Minister Matthew Canavan says.
"Right now it's against the law to have a high-level processing facility in Australia and the Australian Government has no plans to change that, however we will look at whatever the South Australian Government adopts."
The Commonwealth is looking at a site near Barndioota in South Australia for a low-level waste dump, but that is an entirely different idea.
Mr Canavan says "there's no chance" that site would be expanded to house high-level waste.
The South Australian Government is using "engagement tools" including "a citizen's jury" to reach a formal position on the prospect of a high level waste dump.
Given that Australia produces fuel for a lot of the 400-odd nuclear power plants across the globe, some argue that Australia has a moral responsibility to help deal with the waste.
Many insiders say enormous benefits are on the table, but getting a high-level dump project off the ground would be one of the most politically-risky moves imaginable.