Samsung screens new style of safety

Print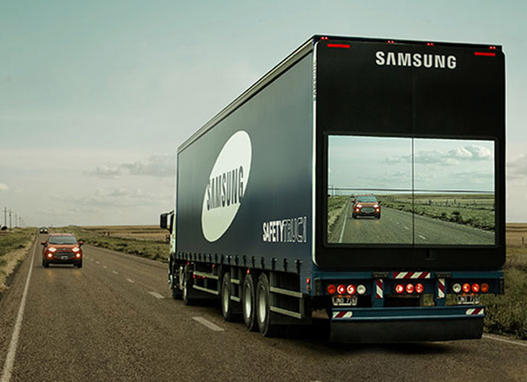 Samsung has unveiled its new Safety Truck; a prototype that allows drivers behind a truck to see the road ahead.
Quite simply, it consists of forward facing cameras on the front of the truck, and a giant TV screen on the back.
The truck is on trial in Argentina, a nation that saw 5104 road deaths in 2014 according to the International Transport Forum.
Some believe this rate is due to the high numbers of semi-trailers and long stretches of single lane highway.
Samsung's Argentinian arm wants to help over-takers, by allowing drivers behind to "see through" the truck and make better overtaking decisions.
The cameras even have an infra-red mode, enabling them to operate at night.
Samsung tested the Safety Truck with local clients, and found that it was "able to confirm that the technology works and that this idea can definitely save the lives of many people".
Though the prototype is no longer on the road, Samsung says it will work with "safe driving NGOs and the government" to "perform the corresponding tests in order to comply with the existing national protocols and obtain the necessary permits and approvals".
See it in action in the video below;