Talks outline Tasmanian power problem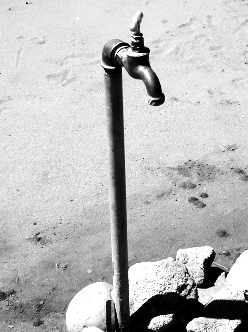 Renowned US environmentalist Bill McKibben has given a clear warning to the Tasmanian Government that things will get worse.
The state is struggling to get a handle on its unprecedented energy crisis, driven by falling hydro-electric dam levels and a broken Basslink cable.
The low dam levels are linked to reduced rainfall, and McKibben says the weather will only get worse.
"Unfortunately it's not going to be the new norm, the new norm is going to be worse and more dramatic with each passing few years," he said.
"In the future, the main sources of new generation around the world are going to be sun and wind."
Tasmania's Attorney-General Vanessa Goodwin said the government was looking at alternative power sources..
"The Energy Minister [Matthew Groom] has indicated that he will be considering all of these options in the context of where we go in the future," she said.
The current plan relies largely on replacing lost power supplies over 100 diesel generators.
Treasurer Peter Gutwein says he has been receiving weekly cost updates from Hydro Tasmania, but will not reveal how much it actually is.
"Hydro are fully aware of what it costs and are updating the Government on a weekly basis," Mr Gutwein said.
"I'm not prepared to provide you with that information at this point in time."
The Government has provided some cost figures, revealing that the diesel generators cost $44 million to lease and $11 million per 100 megawatts of generation per month.
Meanwhile, Tasmania's biggest electricity user says it will accept power rationing.
Bell Bay Aluminium has cut production by 10 per cent for the last five months to save electricity, costing it about $20 million and leaving it unable to fill some big international orders.
"We've made contingency plans on site to work out if we have to shed more load how would we do it," Bell Bay general manager Ray Mostogl said.
"They're more longer type decisions, so we've been busy doing that."
Former energy trader Liam Wagner says consumers will pay more.
"Given that the spot price is above $500 a megawatt hour, I suspect that several months of high prices will mean that there will be a hike in retail prices for Tasmania," he said.
"It's unprecedented in Australia and I think it's a concerning energy security issue, not only for Tasmania, but for Australia as a whole."