Victoria welcomes winds of change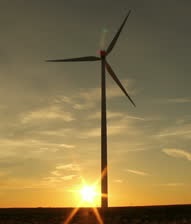 The Victorian Government has made it easier to set up new wind farms.
While the Prime Minister grapples with the artistic aspects of renewable energy, Victoria is embracing the future.
It will now be simpler to get wind farms off the ground, with planning changes to streamline project approvals.
Under the new rules, applications for wind farms and supporting infrastructure be assessed as a single project.
Previously, multiple applications had to be made to State and local governments for separate approvals.
"We have cut red tape to boost investment in clean energy, which will create more jobs for Victorians and grow our economy," said Minister for Planning, Richard Wynne.
"The Andrews Labor Government is sending a strong message to renewable energy investors that Victoria is the place to do business."
The Clean Energy Council says it is a good move.
"The changes announced by Planning Minister Richard Wynne today will save time and money for the government, and for the companies building wind farms. This will ultimately translate to lower power prices for consumers," CEC policy director Russell Marsh told reporters.
Mr Marsh said the changes will make it easier for regional councils, which often struggle to find the resources to assess and manage a wind farm.
"It is great to see Victoria open for clean energy business," he said.
Victoria currently has granted planning approval to 19 wind farms with a combined capacity of about 2,489 megawatts, but none have been commissioned yet.
If the ball gets rolling on all of these, it would lead to an investment of around $5 billion into the state, while supporting around 2,600 jobs across regional Victoria.
The Victorian Government took the announcement as an opportunity to fire some shots at the Federal Government.
"Tony Abbott's comments are yet another example for why he needs to get out of the way, change the law and let Victoria have its own renewable energy target, to support our jobs and industry," said Victoria's Minister for Energy, Lily D'Ambrosio.
"When Tony Abbott attacks the renewable energy industry, he's attacking Victorian jobs."
Victoria has asked the Federal Government to give up legislation preventing state governments from setting their own Renewable Energy Targets (RET), but it appears the state is now striding ahead regardless.