First listed on: 30 June 2020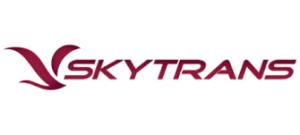 Chief Operating Officer
Welcome Aboard!
Who We Are
Skytrans is looking to rapidly build on its long and distinguished history as an airline. With a high performing, customer focused team, we are committed to delivering the highest level of safety whilst ensuring excellent customer service for all our passengers.
With this in mind, we are looking for an experienced COO to strategically lead the full range of operational activities across the business, and to work effectively in tandem with the CEO to achieve a vision of increased growth and diversity. This is an exciting and critical role that will underpin and may often step in to act as delegate in the CEO's absence.
Who You Are
Critical to the success of this role, will be your proven senior executive leadership in the aviation industry. It is about your ability to think strategically, commercially, develop plans and forecasts and then execute by empowering our established workforce, through our vision, values and plans, to deliver day-to-day outcomes and to grow our business.
The role will demand a demonstrable high level of competence in building solid stakeholder relationships across all sectors, and the ability to effectively provide inspirational visual leadership that reinforces the companies' core values and strategic direction.
Make no mistake, the airline industry is a tough industry, made even more so with the current challenges. The fortitude to undertake a systematic approach to both strategy and day-to-day operations is essential, whilst focused on the delivery of key desired outcomes as determined by the Board and CEO. There are some significant projects and other advancements afoot that will utilise your ability to operate at a senior level to execute and achieve results in the short to medium term and to influence and guide strategic direction over the next 2 to 5 years.
You will also be accountable for significant environmental and safety compliance requirements, not only through CASA, but also State based legislative frameworks.
What You Will Do:
As a full-time position, the key activities will include:
developing and mandating a reporting structure that allows accountability and autonomy of our senior management group in day-to-day operations
seeking to grow our profile within Federal and State Government agencies as a critical supplier of aviation services
leveraging our expansive history of enabling major resource projects and community capacity building
identifying, developing and growing agreed key market segments
ensuring accurate and competent reporting to Board, financiers and stakeholders as required
leading by example by providing motivational leadership and effective people management at all levels
building an achievement and customer focused team with high levels of accountability, responsibility and engagement
overseeing and driving the development of scope of work plans, incorporating stakeholders and technical functions within the airline industry
representing the Company in the community and at various levels of Government in promoting our business and advocating for our industry
preparing annual budgets, operational plans and providing critical input to strategic plans to set the foundations of our future.
What You Need to Succeed
The successful candidate must have and be able to demonstrate the following:
formal qualifications in business, commerce, finance or aviation discipline
minimum of 8-10 years senior leadership in a business with $50 million profit and loss accountability and growth mandate
significant history in environmental and safety leadership and systems management, be it CASA or another regulatory framework within aviation or industry
ability to successfully achieve CASA approval to take on legislative statutory positions in the airline industry, as well as be the responsible and accountable person for several State based legislative frameworks
extensive people management experience with a belief that that an organization is as only as good as its' behaviours and culture, as driven from the top through visual leadership
highly competent but hands on ability to deliver results and hold others accountable
excellent communication skills with a high degree of conflict resolution and negotiating skills, as well as proven aptitude for establishing and strengthening effective relationships, both internally and externally
strategic thinker with strong commercial acumen and a flexible and proactive approach to business and stakeholder engagement within a constantly changing, complex environment
ability to develop robust business plans, documents, financial budgets and forecasts at an executive level for Board and external stakeholder presentation and negotiation
high level of self-awareness and the ability to represent the company in a professional and appropriate manner
ability to travel as and when required
hold or able to obtain an Aviation Security Identification Card (ASIC) if required
A competitive fixed annual remuneration is on offer, commensurate with the role accountabilities and the successful candidates background and expertise relevant to the role.
How to apply:
To apply, please click on the "APPLY FOR THIS JOB" button and attach your resume along with a covering letter which must clearly address the points outlined above.
Please note: Only shortlisted candidates will be contacted. Applicants must be eligible to live and work in Australia as either a citizen or as a permanent resident and be able to attend and successfully pass a pre-employment and random drug and alcohol pathology screening. Skytrans is committed to equal opportunity employment through fair recruitment practices.
Location:

QLD - Aeroglen
Work Type:

Full Time
Category:

Aviation
Executive Management
Stakeholder Engagement/Management